Videos
"Japanese Landscape Waterfall"
by Biagio
This is an original art freehand cover-up tattoo performed by Biagio. The scene depicts a Japanese landscape with waterfall, cherry blossoms, orchids, chrysanthemum, geisha, samurai, and betta fish.
"Koi Fish"
Bill's Koi Fish tattoo by Biagio.
"A Clockwork Orange"
Steve's tattoo of Alex from the movie adaptation of "A Clockwork Orange". Tattoo by Biagio
"Leilani's First Tattoo"
Leilani perfroms her 1st tattoo on her own ankle!
"The Annunciation"
Lucci had an existing rosary beads tattoo and wanted to create a catholic 3/4 sleeve. He decided to do "The Annunciation" scene where Gabriel puts the Holy Spirit into Mother Mary. The Holy Spirit is represented by the dove. St. John of the Virgin Mary was used to sync up with the Catholic imagery as well as St. Mary's cathedral. Once finished, Lucci decided he was ready to extend to a full sleeve. This is the most recent stage with the prayer candles added with Lucci's symbol ending the design.
"Irish, Italian and American Flags"
Kenny got three flags wrapping around his arm to show his Irish, Italian and American heritage.
Butterfly Garden
Samantha's "Butterfly Garden" tattoo by Biagio.
STAR GAZING LILY
Amanda wanted a name removed from her wrist but still wanted a feminine girly style tattoo. Biagio designed a freehand lily and she also wanted a vine like affect so instead of a vine Biagio used it as negative space so this came to be the "Stargazer Lily"
Info
A place where all forms of art can be displayed and viewed by everyone
Biagio's Tattoo Gallery's mission is to open the world to the creative side of the human mind. All of the art on the walls display creativity through experimentation, skill and intellect. The showcased artists will always have these attributes.
Hours of Operation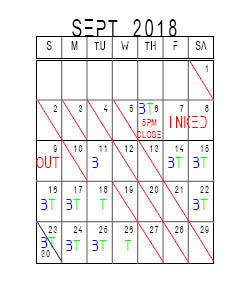 Rotating schedule of 5 days open, 3 days closed. 1pm - 9pm
Location / Contact Info
3138 State Route 10 West, Suite 1
Denville, NJ 07834
Phone973.620.9944
Schedule of Artists
Biagio - Oct. 18th + 21st + 24th + 26th 1pm - 9pm

(By Appointment Only)

Leilani -

By Appointment Only

Rob Talo - Oct. 16th - 19th + 24th - 28th 1pm - 9pm (Rotating 5 Days On - 3 Days Off)
Leilagio
Art Scholarship Fund
Here at Biagio's Tattoo Gallery we believe in the benefits of an artists education. We understand the value of knowledge & creative expansion and how it can benefit individual lives as well as entire communities. Because of such, we offer the Leilagio Art Scholarship to a prospective art student at William Paterson University. Funds are gathered from painting auctions, donations and tattooing during exhibit opening days. If you are interested in donating to our scholarship, please email us.