"The Second Coming"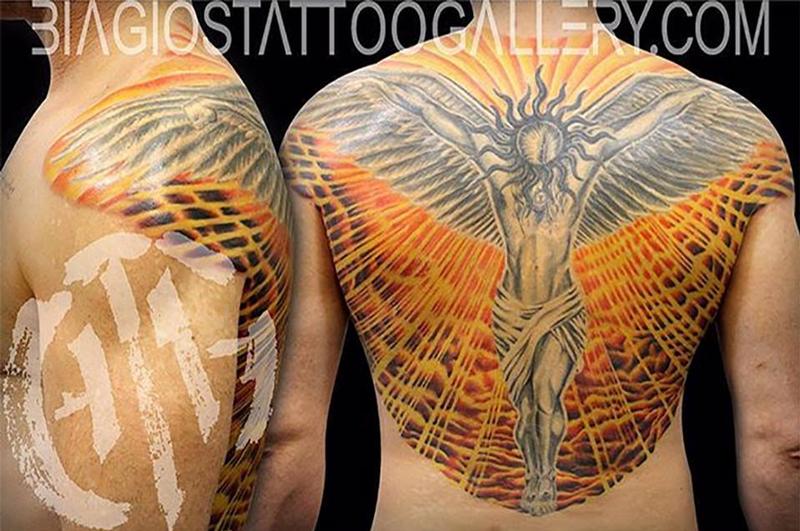 Rob Talo
Placement: Back
Description:
When Nick asked me to design a back piece depicting Jesus Christ with angel wings, the first thing that came to mind was the story about The Rapture in the Bible's book of Revelations. In this story, Jesus Christ returns to Earth to "judge the living and the dead".
There was an existing tattoo of a black sun design on Nick's back and although my original intention was to cover it, I decided to incorporate it as the crown Christ is wearing since I wanted to represent him as a king. The Crown of Thorns seemed inapropriate for the returning king because, in my mind, that would indicate the bearing of a grudge or cause for vengence rather than the sense of justice and balance that I wanted him to portray. The story reads of the sky turning red and the sun turning black as the returning Christ comes upon the clouds, the black sun seemed to be a fitting icon for his return and a symbol of the power he wields, so I reworked the existing sun as the crown, obscuring his face since all eyes would be blinded to his features if they were to try to stare directly at him as he descends upon the world through the clouds to cast the final judgement on humanity.
Keyword Galleries:
Color Tattoos
,
Cross Tattoos
,
Nature Tattoos
,
Religious Tattoos
,
Back and Chest Tattoos
,
Celebrity Tattoos
,
Finished Work Tattoos
,
Illustrations Tattoos
,
Myth Tattoos
,
Nature Sun Tattoos
,
Original Art Tattoos
,
Religious Angel Tattoos
,
Religious Jesus Tattoos
,
Rework Tattoos
,
Royal King Tattoos
,
Spiritual Tattoos
,
Stand Alone Tattoos
,
Wings Tattoos
Info
A place where all forms of art can be displayed and viewed by everyone
Biagio's Tattoo Gallery's mission is to open the world to the creative side of the human mind. All of the art on the walls display creativity through experimentation, skill and intellect. The showcased artists will always have these attributes.
Hours of Operation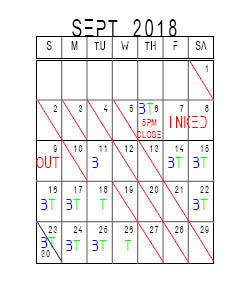 Rotating schedule of 5 days open, 3 days closed. 1pm - 9pm
Location / Contact Info
3138 State Route 10 West, Suite 1
Denville, NJ 07834
Phone973.620.9944
Schedule of Artists
Biagio - Oct. 18th + 21st + 24th + 26th 1pm - 9pm

(By Appointment Only)

Leilani -

By Appointment Only

Rob Talo - Oct. 16th - 19th + 24th - 28th 1pm - 9pm (Rotating 5 Days On - 3 Days Off)
Leilagio
Art Scholarship Fund
Here at Biagio's Tattoo Gallery we believe in the benefits of an artists education. We understand the value of knowledge & creative expansion and how it can benefit individual lives as well as entire communities. Because of such, we offer the Leilagio Art Scholarship to a prospective art student at William Paterson University. Funds are gathered from painting auctions, donations and tattooing during exhibit opening days. If you are interested in donating to our scholarship, please email us.