Holiday Gift Chip Sale
Wednesday November 15, 2017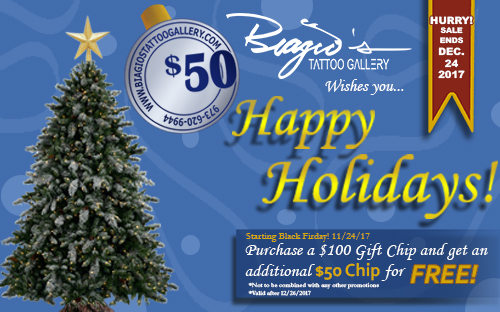 Come one, come all to our extravagant happy holiday sale! Starting Black Friday 11/24/2017 for every $100 gift chip purchased, customers will receive a FREE $50 gift chip! Gift chips make perfect gifts for your friends, relatives and loved ones! Don't wait as our holiday sale ends December 24th, 2017 5:00PM. We are also offering a promotion for Small Business Saturday 11/25/2017 for anyone who makes a purchase of wall art, tattoo, or gift credit will receive an additional 50$ gift chip. If you have any questions regarding the holiday sale, please feel free to give us a call or shoot us an email!
*$50 chips may not be used with any other promotions.
**$50 chips become valid after the sale has ended on December 25th, 2017.
Be sure to take advantage and head on over to Biagio's Tattoo Gallery as soon as possible to secure the deal of the year!
Info
A place where all forms of art can be displayed and viewed by everyone
Biagio's Tattoo Gallery's mission is to open the world to the creative side of the human mind. All of the art on the walls display creativity through experimentation, skill and intellect. The showcased artists will always have these attributes.
Hours of Operation
Rotating schedule of 5 days open, 3 days closed. 1pm - 9pm
Location / Contact Info
3138 State Route 10 West, Suite 1
Denville, NJ 07834
Phone973.620.9944
Schedule of Artists
Biagio - July 20th - 24th + 28th, 29th + 31st 1pm - 9pm

(Rotating 4 Days On - 4 Days Off)

Leilani -

By Appointment Only

Rob Talo - July 20th - 24th + 28th - Aug. 1st 1pm - 9pm (Rotating 5 Days On - 3 Days Off)
Leilagio
Art Scholarship Fund
Here at Biagio's Tattoo Gallery we believe in the benefits of an artists education. We understand the value of knowledge & creative expansion and how it can benefit individual lives as well as entire communities. Because of such, we offer the Leilagio Art Scholarship to a prospective art student at William Paterson University. Funds are gathered from painting auctions, donations and tattooing during exhibit opening days. If you are interested in donating to our scholarship, please email us.