News And Events
Thursday December 08, 2016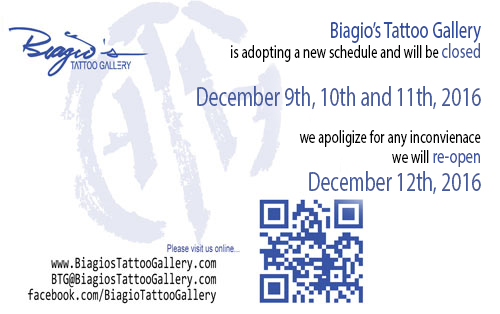 Biagio's Tattoo Gallery is adopting a new schedule and will be closed December 9th, 10th and 11th, 2016. We apologize for any inconvenience we will re-open December 12th, 2016.
Tuesday November 22, 2016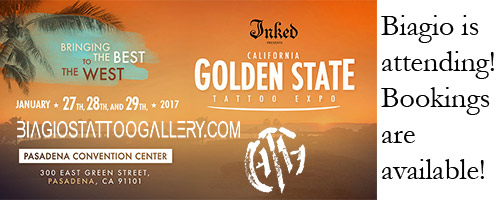 Biagio will be attending the Golden State Tattoo Expo in Pasadena, California January 29th - 31st 2017. Stop by the Pasadena Convention Center to visit and get tattooed. Bookings are available!! Contact Biagio at Biagio's Tattoo Gallery, 973-620-9944 or email Biagio@BiagiosTattooGallery.com . Visit the Golden State Tattoo Website for more info about the show.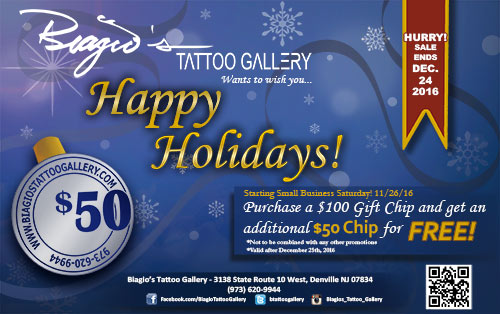 Holiday Gift Chip Sale!!
Our Holiday Sale is back!! Stop in to receive a $50 chip to use towards your next tattoo for every $100 gift chip that you purchase. A perfect gift for the holidays!! Sale begins 11/26/16 and runs until 12/24/16. (limitations apply)
***Can only be used after 12/25/2016 and cannot be combined with any other promo.
On the first day of fall, September 22, 2016,
Biagio's Tattoo Gallery will be exhibiting the work of Adam Ramirez. This body of work showcases the artist's mind as he superimposes his imagery onto the pages of written material.
The exhibit opening will have a meet and greet with some of the artists. There will be collaborative paintings created on the day of the show. Everyone is encouraged to contribute to these paintings. 100% of proceeds from collaborative painting auctions and donations will benefit the Leilagio Art
Scholarship. Food and drinks will be provided by the gallery. The "Superimposed" exhibit will run from Sept. 22, 2016 -
Dec. 15, 2016.
Leilagio
Art Scholarship Fund
Here at Biagio's Tattoo Gallery we believe in the benefits of an artists education. We understand the value of knowledge & creative expansion and how it can benefit individual lives as well as entire communities. Because of such, we offer the Leilagio Art Scholarship to a prospective art student at William Paterson University. Funds are gathered from painting auctions, donations and tattooing during exhibit opening days. If you are interested in donating to our scholarship, please email us.