News And Events
Saturday April 15, 2017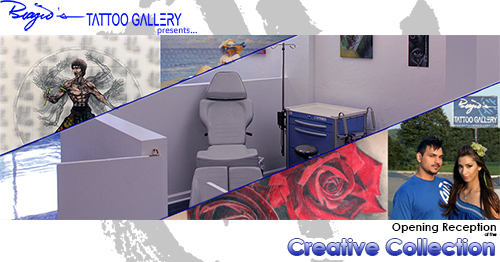 Biagio's Tattoo Gallery is celebrating our 6th year anniversary!!! It's hard to believe we have put on over 20 shows seasonally over the past 6 years but here we are... 2017 time for something new... We have decided to change up our standard exhibit showcase. Meaning no more seasonal exhibits!!! The "Creative Collection" is an ever-changing body of work here at B.T.G. The work shown is from a large network of artists that have previously showcased their talent, in addition to new artists that are eager to present. As always, B.T.G. displays the talents of individuals who portray the highest levels of technical ability and/or creativity. We welcome you to take in the efforts of the entire body of artists.
The reception will start at 6pm and continue until 12am. We encourage people to get friends together and bring them down to the gallery to experience all the unique art and entertaining atmosphere. We will have refreshments provided but you are always welcome to B.Y.O.B.
Throughout the reception we will have games, interactive collaborative paintings and performances. We will also be featuring a SALE promotion, for every $100 Gift Chip purchase you will receive an addition FREE $50 promotional value applicable to body and wall arts. Don't miss out !!!
Tuesday April 25, 2017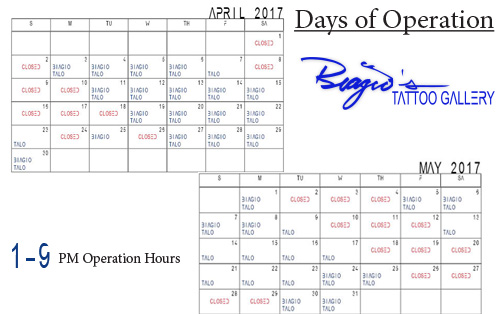 Biagio's Tattoo Gallery is adopting a new schedule and will be closed April 26th, 2017.
We apologize for any inconvenience.
We will re-open April 27th, 2017
Please visit us online...
www.BiagiosTattooGallery.com
BTG@BiagiosTattooGallery.com
facebook.com/BiagioTattooGallery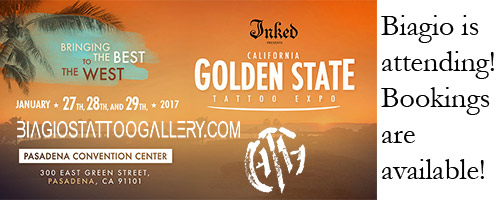 Biagio will be attending the Golden State Tattoo Expo in Pasadena, California January 29th - 31st 2017. Stop by the Pasadena Convention Center to visit and get tattooed. Bookings are available!! Contact Biagio at Biagio's Tattoo Gallery, 973-620-9944 or email Biagio@BiagiosTattooGallery.com . Visit the Golden State Tattoo Website for more info about the show.
On the first day of fall, September 22, 2016,
Biagio's Tattoo Gallery will be exhibiting the work of Adam Ramirez. This body of work showcases the artist's mind as he superimposes his imagery onto the pages of written material.
The exhibit opening will have a meet and greet with some of the artists. There will be collaborative paintings created on the day of the show. Everyone is encouraged to contribute to these paintings. 100% of proceeds from collaborative painting auctions and donations will benefit the Leilagio Art
Scholarship. Food and drinks will be provided by the gallery. The "Superimposed" exhibit will run from Sept. 22, 2016 -
Dec. 15, 2016.
Leilagio
Art Scholarship Fund
Here at Biagio's Tattoo Gallery we believe in the benefits of an artists education. We understand the value of knowledge & creative expansion and how it can benefit individual lives as well as entire communities. Because of such, we offer the Leilagio Art Scholarship to a prospective art student at William Paterson University. Funds are gathered from painting auctions, donations and tattooing during exhibit opening days. If you are interested in donating to our scholarship, please email us.